Create a student dismissal process
Who is this for?‍
We are for school staff who are ...

Looking for a system to track parents who have arrived to pick up their children.

Looking to implement additional social distancing measures this year during the dismissal process.
Looking to streamline the parent check-in process with parents checking in on their own mobile device.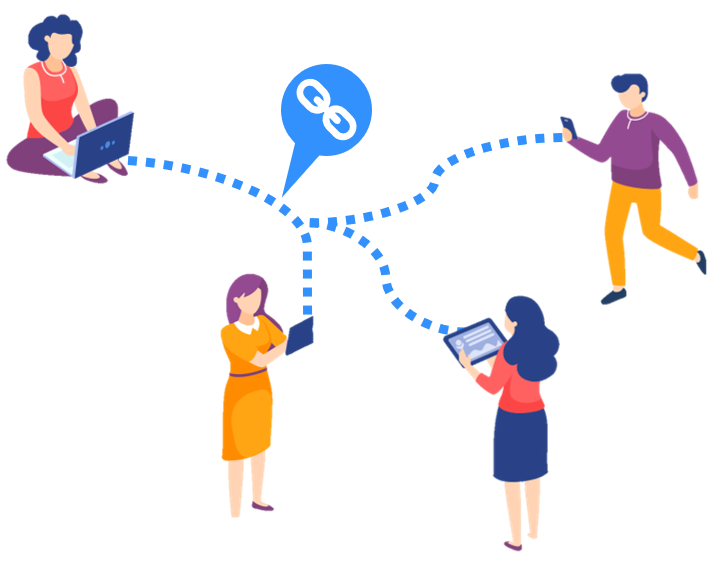 Trusted by schools & universities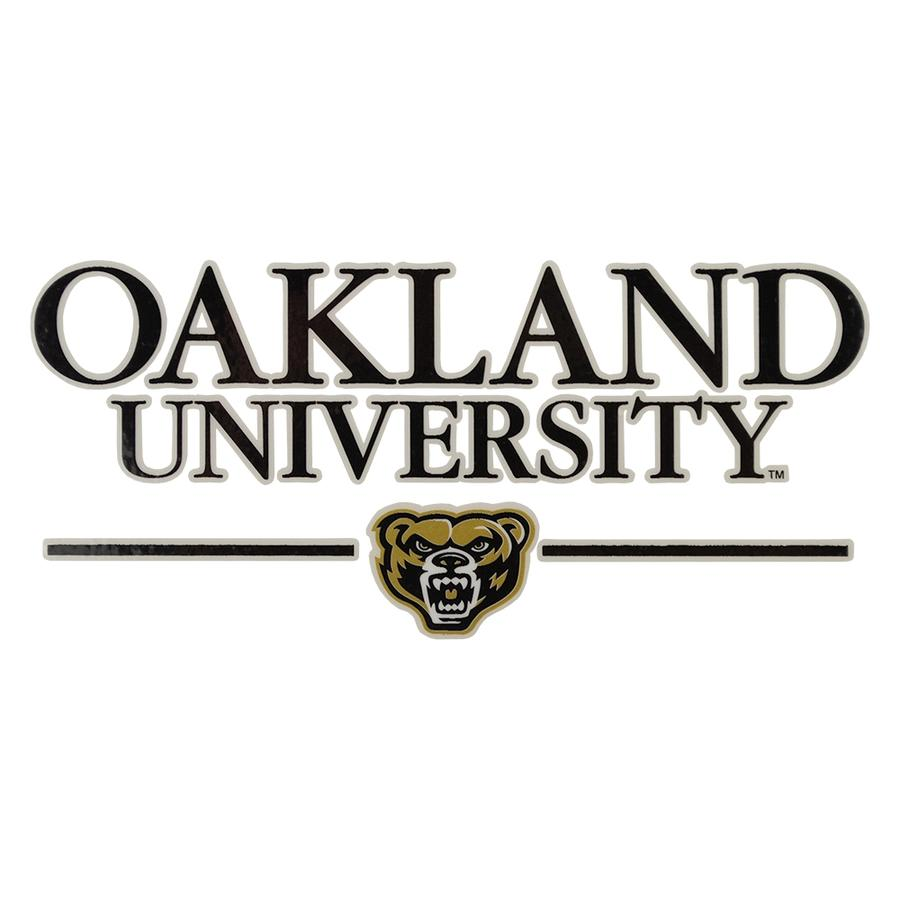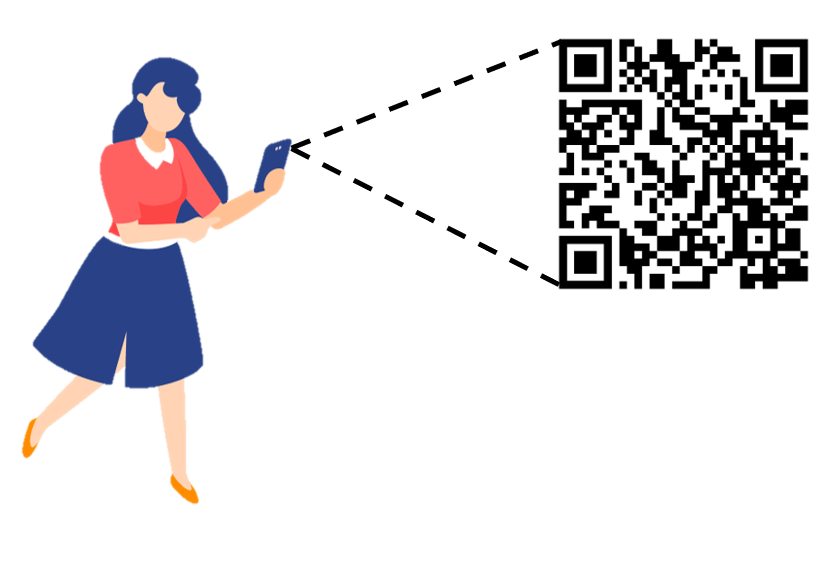 Exhibit A - QR codes
Print out large QR codes that can be scanned by parents at a checkpoint.
Works on all iPhones and most android smartphones without installing any other apps.
How to use this?
A. Print our QR codes and post them at checkpoints.
B. Parents pull-up in their vehicle and scan the QR code one a time.
C. They will be taken to our check-in page (shown below).
Exhibit B - Check-in links
Create a daily touch-less check-in process by sharing self-check-in links with parents.

Send the check-in link once and parents can reuse it daily.
Check-in links can be bookmarked, added to home screen, or kept in a email/message thread.

Works on all iPhones and most android smartphones without installing any other apps.
How to use this?
A. Parents open the link (from their email, text, or by scanning a QR code).
B. They search for their name from a dropdown list, and check-in!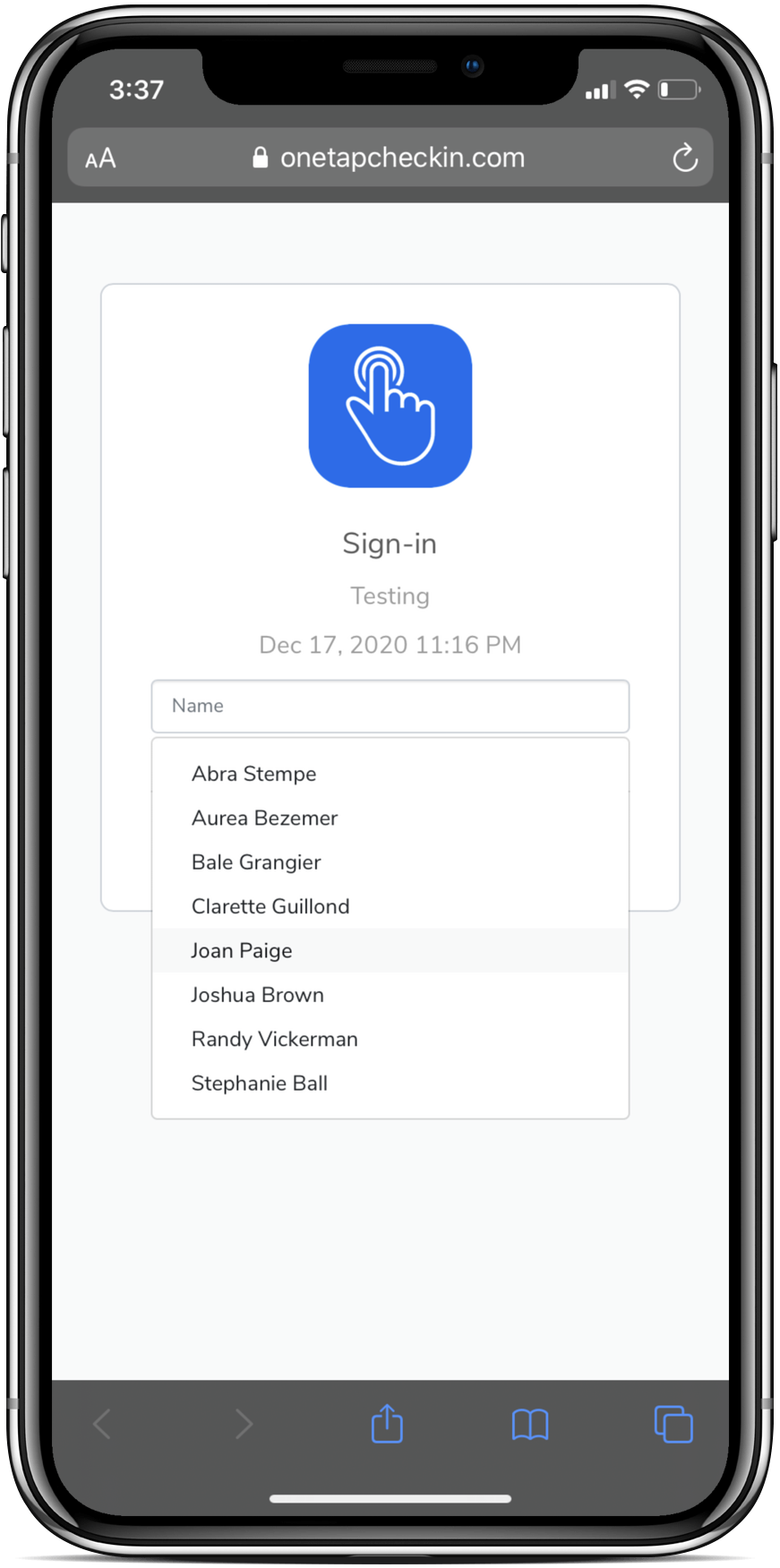 Exhibit D - Privacy matters
We value data privacy, therefore ...

We will never sell or market your data.

You may choose to use family names instead.

You may hide dropdown of names that appear on the check-in link to prevent unwanted persons from viewing this information.

We respect all student & parent imported int our system that falls under Family Educational Rights and Privacy Act (FERPA).

We serve trusted educational institutions and enterprises.

Exhibit C - Surveys
Need more details from parents? We've got that covered too ...

Ask parents survey questions during the check-in process.

Example:
Where are you parked?
‍John and Elm street.

(P.S. You can provide dropdown options so it's fast to answer).

Example II:
Which checkpoint are you at?
Orange checkpoint.

Like before, this works on all iPhones and most android smartphones without installing any other apps. It's just a website link.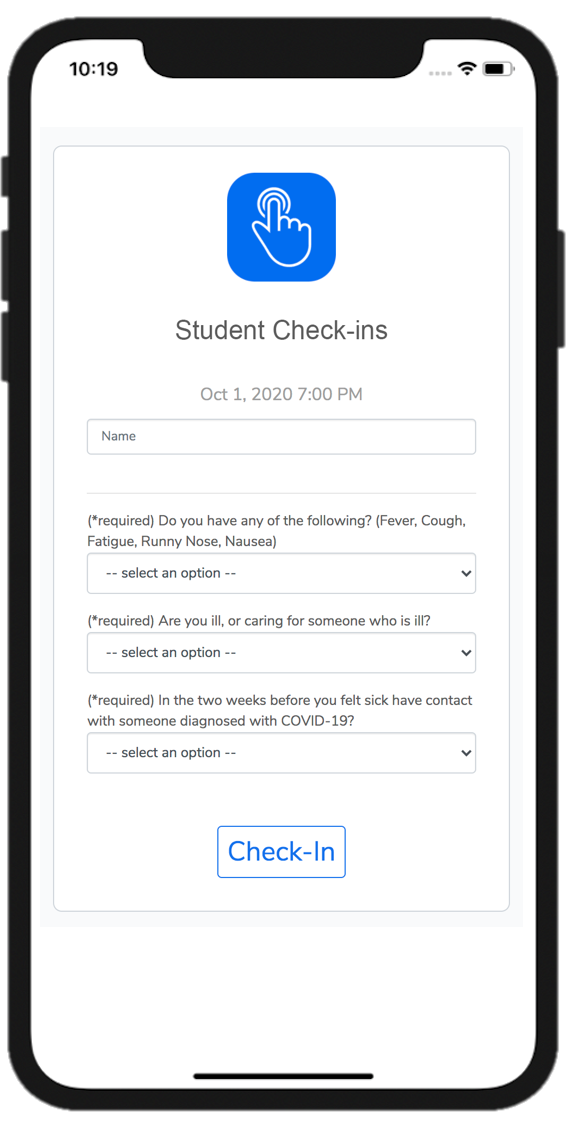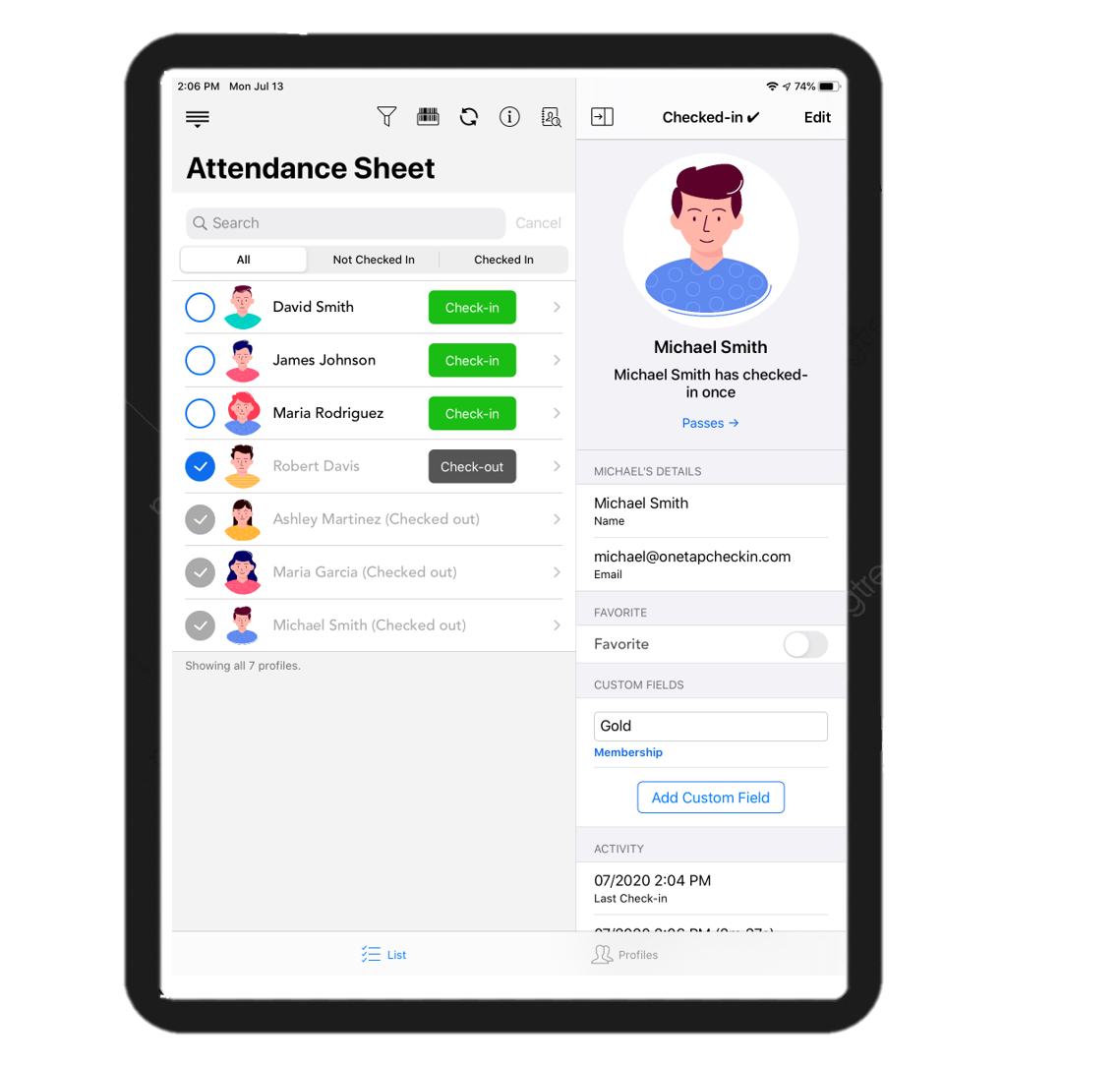 Exhibit E - OneTap app
We have an admin iPad and iPhone app that helps you ...

View check-ins in real time! (Like Google docs)

See who's checked-in, sort by check-in time.

See where they checked-in; the GPS location.

See custom survey question answers.

Any other custom fields associated with the parent.
Custom fields can save details such as:
Contact number, Emergency contact, Authorized pickup, etc.

Exhibit F - Reports & collaboration
Works on multiple devices at the same time.

Add multiple staff members to our organization's account.

Download excel reports with all check-in data.

Download aggregate reports with total check-ins, time between check-in and check-out.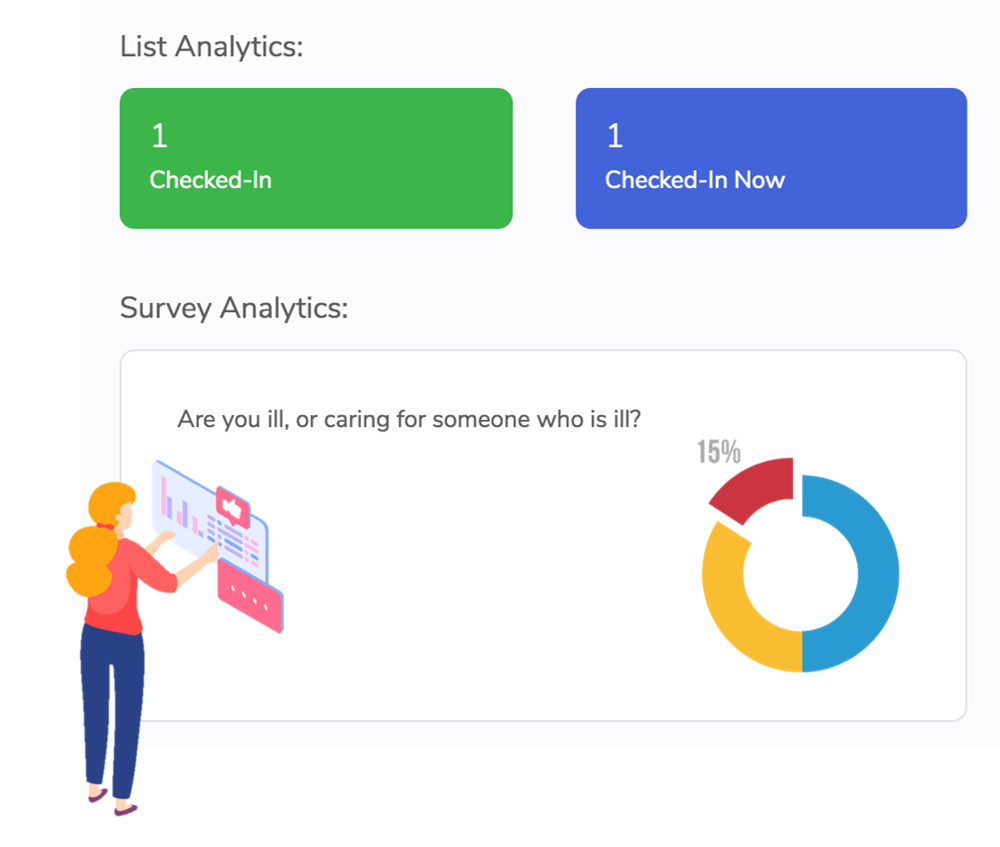 Made for schools
OneTap provides an efficient, modern, and time-saving attendance taking process.